B.Ed Syllabus and Subjects 2023 Year and Semester Wise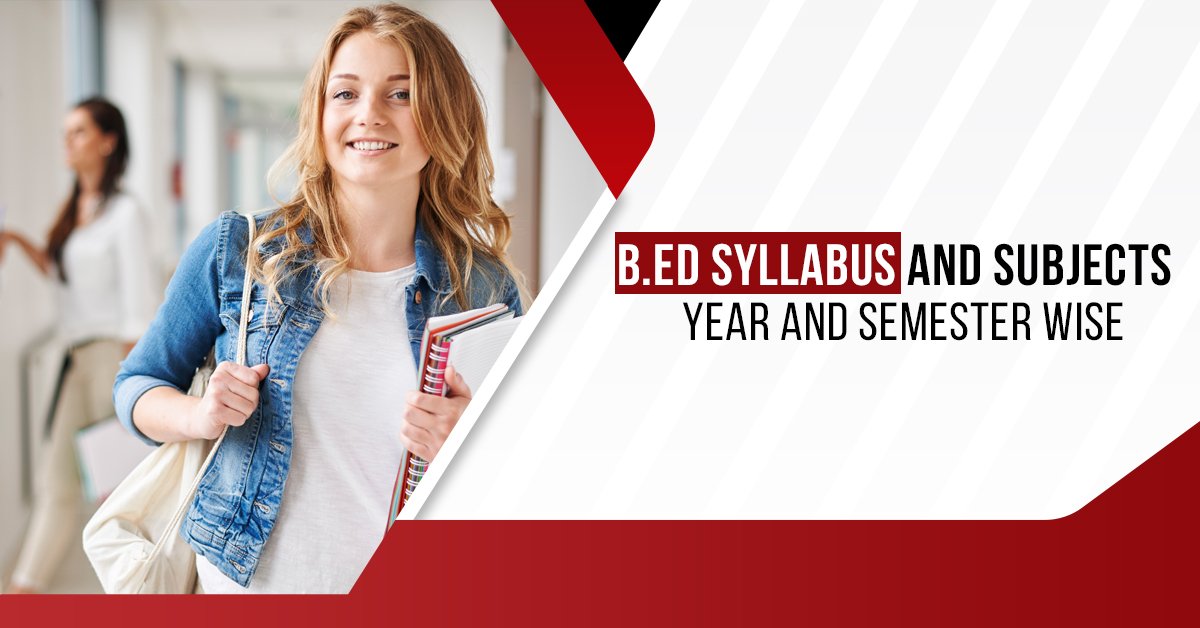 The Bachelor of Education program (B.Ed) in India prepares students for becoming teachers. This course was previously only available to graduates. B.Ed is now an integrated college course, as a result of the Ministry of Human Resources taking into account the greater demand for the teaching profession.
This integrated course can be taken after completing your 10+2 education. It takes only four years to become a graduate and B.Ed-qualified educator. According to the traditional path, you would have to finish the B.Ed course in 2 years and graduate in 3 years.
Educators wishing to teach in primary and secondary schools should have a B.Ed degree, so they can teach science and arts from the perspective of a teacher.
Specializations of B.Ed. Course:
B.Ed. (Computer Science), B.Ed. (English), B.Ed. (Commerce), B.Ed in Home Science, B.Ed in Biological Science, B.Ed in Mathematics, B.Ed in Economics, B.Ed in Political Science, B.Ed in Computer Science, B.Ed in Social Science, B.Ed in Physical Science, etc.
It is possible for students to complete two degrees at the same time by taking light subject courses in the B.Ed. program. Many students opt for MBA courses due to the high returns they receive from MBA positions. In spite of the fact that it is possible to complete two degrees simultaneously, it is recommended that both degrees be completed in two different academic years.
B.Ed Syllabus for Entrance Exam:
Admission to BEd is based on merit and entrance examinations. There is a similar syllabus for all B.Ed entrance examinations. The majority of marks will be earned by focusing on the subjects that will fetch the most points. A good score in the B.Ed entrance exam depends on covering the following sections:
General Knowledge

Current Affairs
Polity
History
General Science
Geography
Questions Related to Social Issues
Five-year Plan

Verbal Aptitude

Grammar
Synonyms and Antonyms
Fill in the Blanks
Error Correction
Reading Comprehension
Spelling Error
One-word Substitution
Idioms & Phrases

Teaching Aptitude

Nature, Objective, Characteristics, and Basic Requirements of Teaching
Factors Affecting Teaching
Methods of Teaching (Nature, Purpose, Characteristics, and Basic)
Requirements of Teaching
Teaching Aids
Factors Affecting Learning
Teaching Methods

Logical Reasoning

Series Completion
Substitution and Interchanging
Tests of Alphabet
Principle of Classification

Quantitative Aptitude

Percentage
Average
Ratio & Proportion
Profit & Loss
B.Ed Eligibility:
B.Ed admissions require an undergraduate degree in any stream (Arts, Science, or Commerce). For bachelor's degree courses, the minimum mark requirement is between 50 and 55%.
Bachelor's degree holders in the arts, commerce, or science can select their specialization according to their degree program.
B.Ed admissions in the majority of colleges are not age-restricted.
List of B.Ed. Entrance Exams 2022-23:
Several institutes and universities conduct entrance exams for B.Ed. programs. There are several popular ones, including
IGNOU B.Ed. Entrance Exam
DU B.Ed. Entrance Exam
UP B.Ed JEE 2022
MAH B.Ed. CET
Bihar B.Ed. CET
BHU UET
IPU CET
HPU B.Ed.
Odisha B.Ed. Entrance Exam
B.Ed 1st Year Syllabus:
The B.Ed First Year Syllabus is divided into 4 semesters. B.Ed 1st year subjects include language across the curriculum, contemporary India and education, childhood and growing up, school exposure, etc. The BEd 1st-semester syllabus includes subjects like Pedagogy of school subject-1 – Part I, Understanding ICT and its applications, etc. The total marks for the B.Ed First Year Syllabus are 325. Childhood and growing up - Contemporary India and education contain 100 marks each. They are the only subjects that have 100 marks.
Semester 1
Childhood And Growing Up

Learner as a Developing Individual
Development and Learning
Understanding Childhood in a Socio-cultural perspective
Adolescence: Issues and Concerns
Stages of Child Development: Implications for Teachers

Contemporary India And Education

Contemporary India
Constitutional Provisions and Education
Development of Education in India
Initiatives of Government of India
Contemporary Indian Education: Concerns and Issues

Language Across The Curriculum

Language Background of Students
Nature of Classroom Discourse
Informational Reading and Writing

Pedagogy Of Subjects

Social Science
Biological Science
Physical Science
Mathematics
English
Urdu
Sanskrit
Hindi

Understanding ICT And Its Applications

Introduction to ICT
ICT and Pedagogy
ICT for Assessment and Management
Semester 2
Learning And Teaching

Understanding the Learner
Understanding Learning
Learning in 'Constructivist' Perspective
Understanding Teaching
Teaching as a Profession

Knowledge And Curriculum

Knowledge and Knowing
Forms of Knowledge
Curriculum Determinants and Considerations
Curriculum Development
Curriculum Implementation and Renewal

Assessment For Learning

Assessment and Evaluation: An Overview
Context of Assessment
Assessment Procedure
Data Analysis, Feedback, and Reporting

Pedagogy Of Subjects

Social Science
Biological Science
Physical Science
Mathematics
English
Urdu
Sanskrit
Hindi
Semester 3
Engagement With The Field: Tasks
Tasks and Assignments in different Courses
School Internship
Courses on Enhancing Professional Capacities
Pre-Internship
Internship
Semester 4
Gender, School and Society
Reading and Reflecting on Texts
Arts in Education
Understanding the Self
Creating an Inclusive School
Health, Yoga and Physical Education
Jobs Prospects after B.Ed:
Let's look at what career opportunities are available after BEd. Educating at the school level in India requires a BEd. A BEd degree qualifies a candidate to teach as a Post Graduate Teacher (PGT) or Trained Graduate Teacher (TGT).
Further education can be pursued with a BEd, such as an MEd or Masters/PhD in your field. Educators and teachers with completed programs can find employment in both the public and private sectors. You can explore these job profiles after graduating with a BEd:
Trained Graduate Teacher
Post Graduate Teacher
Researcher
Journalist
Writer
Author
Content Writer
Private Tutor
● Principal
● Educational Counsellor
● School Administrator